Parkside Living in the Heart of Hintonburg
While calmly enjoying a morning cup of coffee or hosting friends on your expansive, private terrace, overlooking Parkdale Park you could easily forget that you're living in one of the most exciting, vibrant and amenity-rich neighbourhoods in Ottawa. This luxury parkside escape offers the perfect balance between unparalleled access to highly coveted urban amenities and calm, serene, luxury living.
The Best Ottawa has to Offer from $279,000
Walking access to boutique shops, nouveau cafés, delicious restaurants, lush parks and independent galleries will be the new norm. Located across from Parkdale Park on 16/20 Hamilton, Wellington West Lofts offers residents a calm and luxurious home base with unprecedented access to all the best amenities Ottawa's has to offer. Right next to the O-Train, a stone's throw away from the Westboro and the Ottawa River, within sight of the downtown core and in the heart of Hintonburg, Wellington West Lofts is truly a once in a lifetime opportunity
Custom Lofts from $279,000 up to $1,000,000
Surface is recognized as Ottawa's premier developer of luxury, designer condos. Wellington West Lofts Lofts will provide the highest value and lowest comparable price. Our clients will be able to choose from hundreds of high-quality finishes without paying any upgrade fees. More than anywhere else. They can also completely custom design their unit layout without spending an extra dollar.
Register Today
The majority of our projects sell out on launch and getting a unit can be a challenge. To better your odds register now if you haven't already and you'll be put on the inside track to getting your new condo. You'll also get a complete package of interior unit designs, floor plans and pricing delivered straight to your inbox as soon as they're released.
Exclusive Pre-release Sneak Peak
To get a sneak peek and learn more first-hand details about this exclusive project, call 613-233-4210 or book an appointment to view some pre-release drawings, layouts and finishes we're working on before they become available.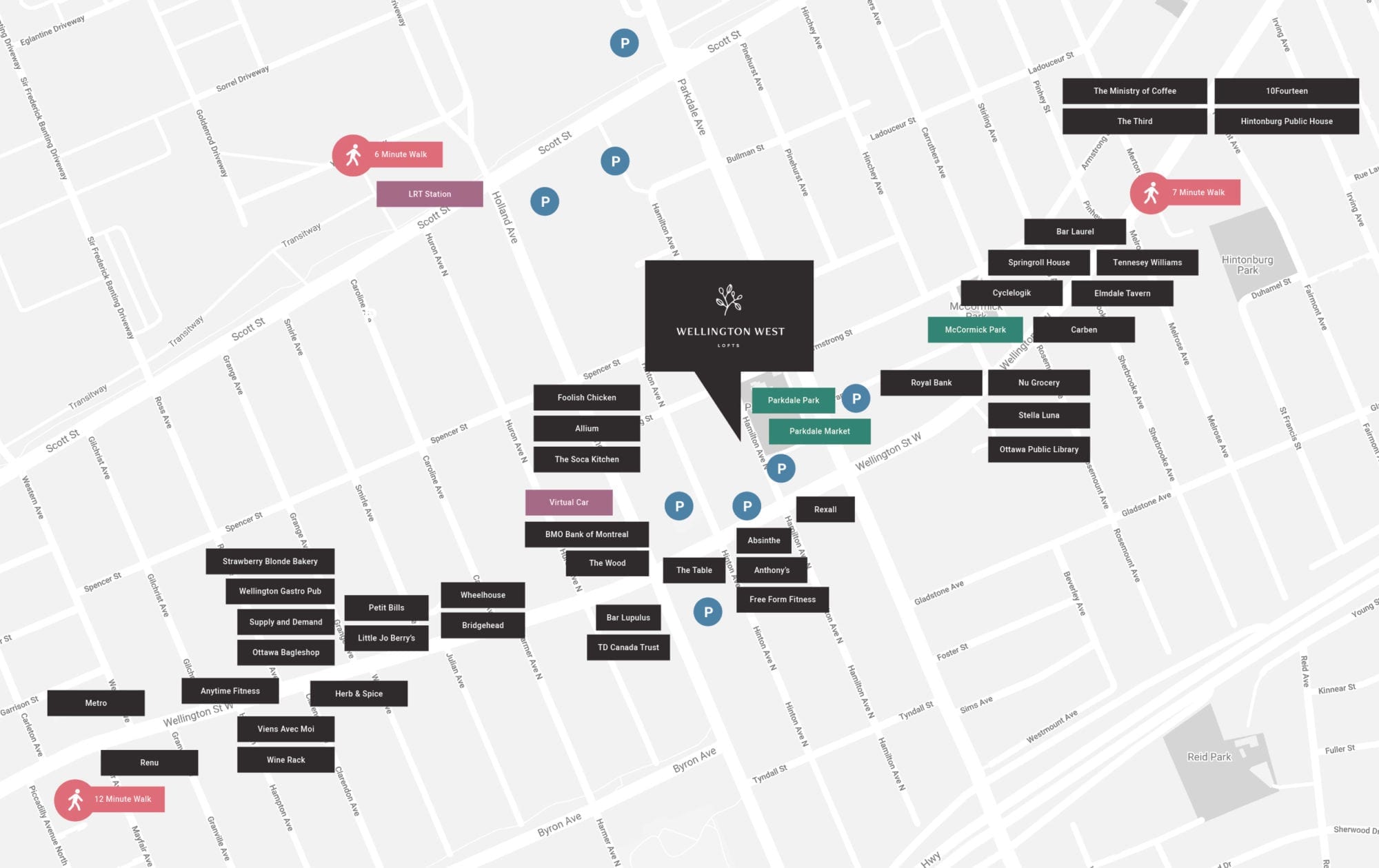 A Vibrant and Exciting, Luxury Parkside Setting
Set beside ultra-posh Westboro, in the heart of uber-trendy Hintonburg, and a short stroll from the many amazing delicacies of Little Italy this luxury parkside escape is walking distance to Ottawa's hottest neighbourhoods. Choosing which direction to head for dinner might be your new toughest decision.
Make sure you bring your appetite, interest in fashion and opinion on art because the Wellington West area has over 500 unique commercial destinations to explore. You'll quickly discover your fave spots then just as quickly discover a handful more.
Balancing this vibrant, exciting, urban lifestyle with a quiet, luxury parkside dwelling is what truly makes this location so unique. 16/20 Hamilton is in the heart of Wellington West, with every boutique amenity one could want but nestled onto a quiet street with a serene vibe and beautiful views of Parkdale Park.
Units Can be Very Difficult to Acquire
Our recent project right next door sold out completely in only a single day. Register now to get information as soon as it's released. Want a sneak peek of pre-release drawings, layouts and finishes we're working on before they become available? Call 613-233-4210 or book an appointment today.
Book an appointment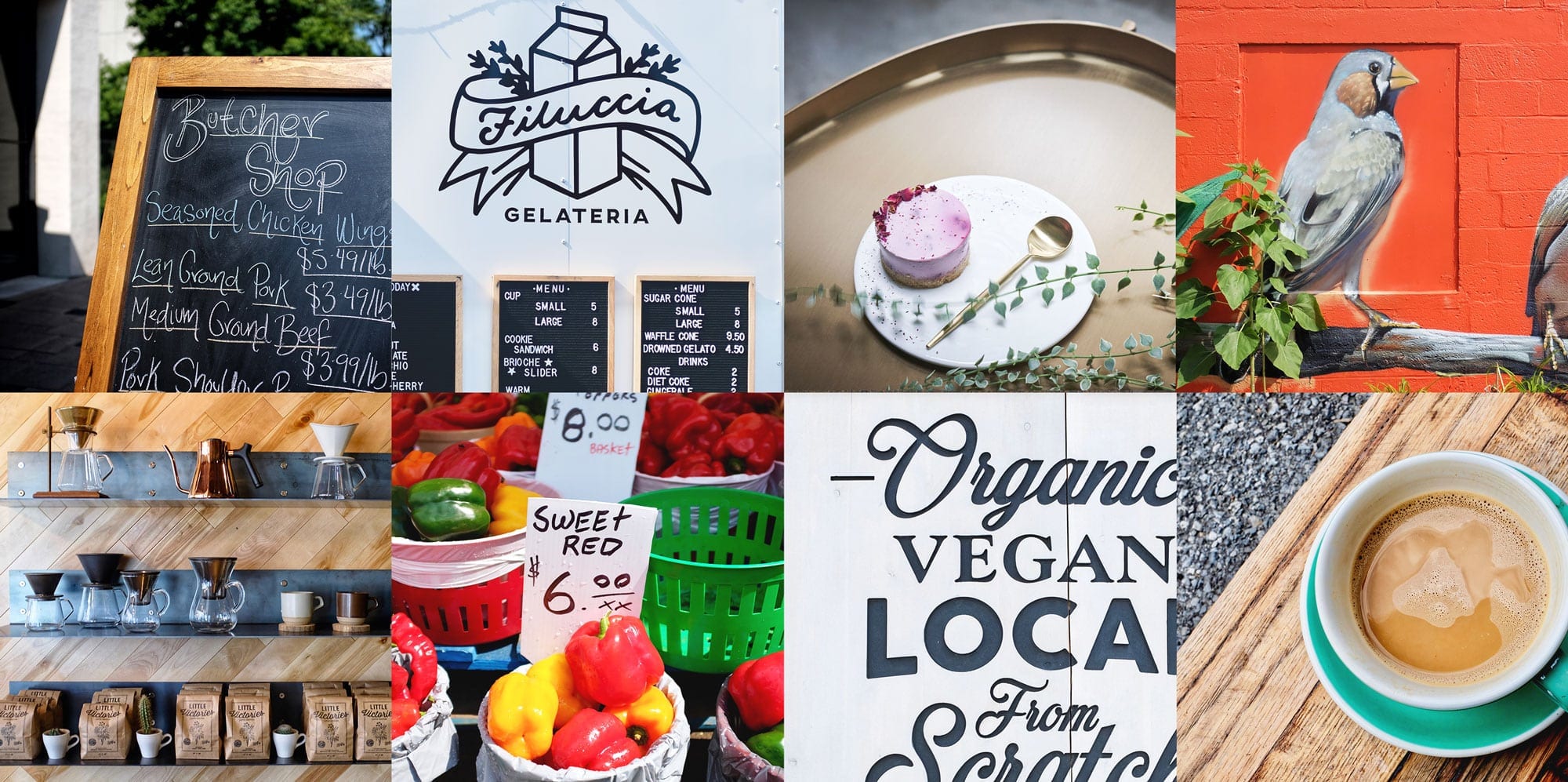 Designed for Urban living
Similar to a fine wine deserving the perfect pairing, a location as exquisite as this demands a building design that both compliments and enhances its phenomenal surroundings.
The suites at Wellington West Lofts were designed with luxurious indoor-outdoor living in mind. Large open spaces, coupled with floor to ceiling windows and spacious private terraces allow for natural light and air to flow through the space, creating a harmonious connection with the outdoors.
Penthouse sized outdoor terraces on every unit mean you'll never have to compromise lifestyle no matter was size suite you purchase. You'll have more than enough room to, enjoy a book and a glass of wine overlooking the park, to entertain friends in ultimate style in your outdoor living room, to enjoy yoga in the fresh air or to catch a few rays on the sunlounger, to create your private garden oasis, our to gather around the patio table with a large group of friends to enjoy a sunset bbq. When you have this much space it's all uniquely possible.
Spaces that Feel Immense
There are only a handful of locations in Ottawa where you can get the exclusive opportunity to own a condo on an urban park. There is only one in Ottawa's most vibrant neighbourhood. It's a once in a lifetime opportunity to live the benefits of unobstructed park views in a beautiful natural setting.
With nothing to block your view, you'll forever be facing large, open, naturally organic spaces. The architectural design of the suites draws its inspiration from this powerful connection to nature. The lofts are open, airy, showcase glass interior walls, and incorporate floor to ceiling windows that pull the interior space out towards the terrace. The result is suites that feel immensely larger than their footprint. The trees, flowers, sky and stars all feel like they're an infinite extension of your living space.
Embracing the outdoors even gets taken to the next level atop the building's 8th-floor breathtaking rooftop patio. Host friends amidst a gorgeous auburn evening sky or relax with a calm morning coffee on top of the city. You decide, it's your space to use and enjoy.
Your Own Personal Amenities
We will be creating a limited number of gorgeous first-floor commercial spaces, with the intention of hosting shops, cafés, eateries, galleries or a host of other exciting amenities possibilities. Imagine the delicious smell of coffee or pastries lingering in the morning air. Registrants will be the first to know when we announce our exciting retail partners.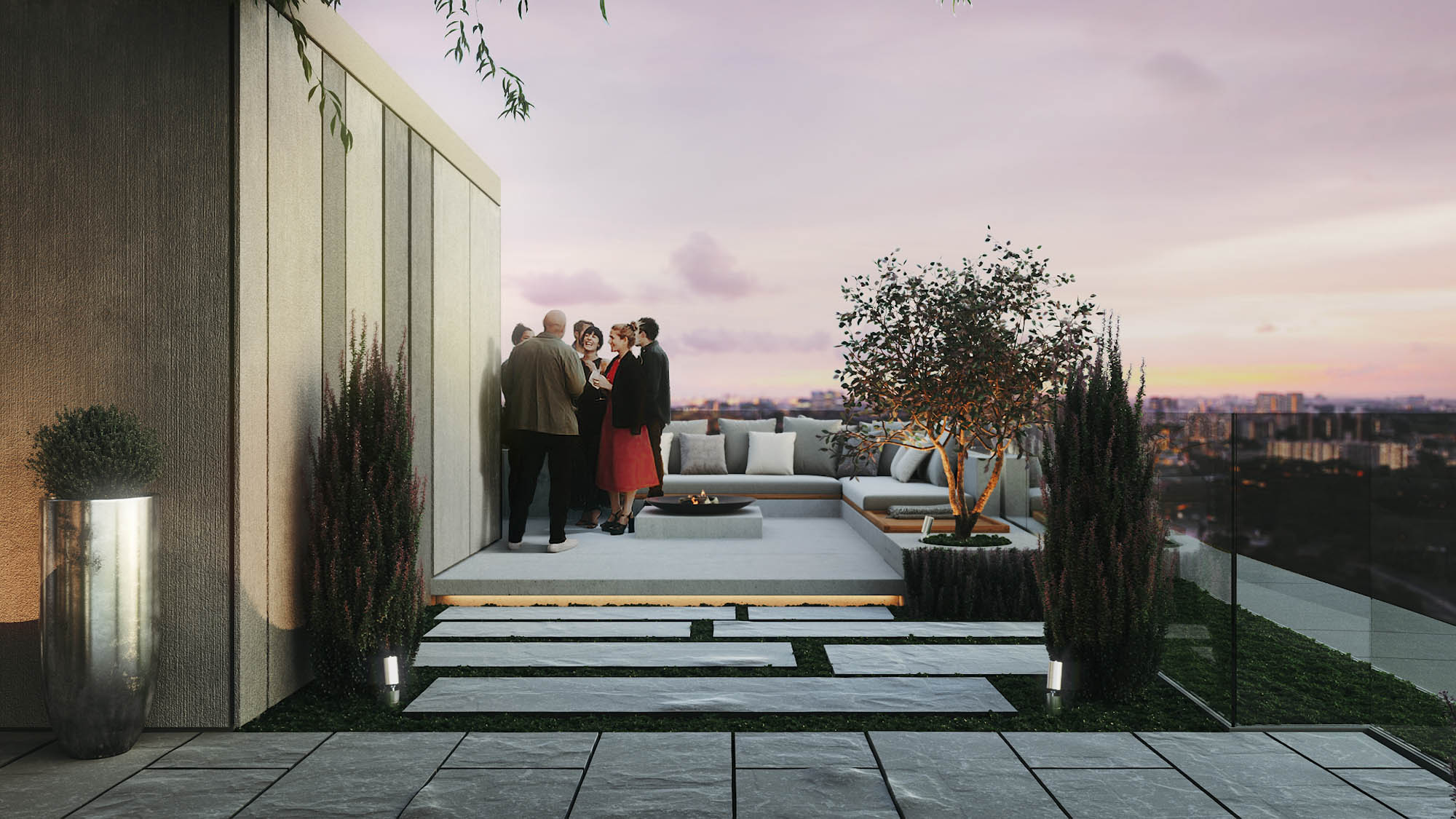 A Thrill and Excitement that Never Fades
With Surface, you get the same extremely high standard of quality and service the day you purchase until long after you've moved in.
Surface condos are always built to the highest construction standards, no exceptions. Our commitment to quality has been recognized numerous times locally, provincially and internationally. Supporting our high level of construction quality our unparalleled standard of customer care. Our client's needs are always our number one priority.
Ottawa's Only Condos Offering Free Custom Design
We're the only condo developer in Ottawa to offer our clients the opportunity to work alongside an architect and interior designer to completely customize their architectural plan for free. This kind of unparalleled flexibility ensures they get exactly what they want without compromise.
6.5 billion unique, high-quality design possibilities
When it comes to choosing the interior look and feel, rarely are taste and preference universal. That's why we ensure we're curating the greatest selection of free, incredibly high-quality finishes available. All of the options we offer are pre-upgraded, meaning would never insult our clients with cheap finishes in the hope that they'll upgrade.
For over 40 years, Tarion has provided new home protection to more than two million Ontario homes, ensuring that one of their life's biggest investments is protected. Our impeccable track record with Tarion and this program gives our purchasers the assurance that the thrill and excitement of their gorgeous new home never fades.
One Unprecedented Success After Another
As you may have already heard, our condos are in very high demand. Our last project, Westboro Lofts sold 90% of its units in pre-sales.
Our Parkdale Market Lofts project, which you'll find right next door to Wellington West Lofts, was an unprecedented success, selling out in only one day. In fact, it's because of this overwhelming accomplishment, and the non-stop requests we've been getting to build again in this neighbourhood, that we acquired the two lots next door, 16 and 20 Hamilton.
Units Can be Very Difficult to Acquire
Because of our consistent success in creating high value, award-winning buildings in Ottawa's best locations, units can be very difficult to acquire.
Register now so you don't miss out on the opportunity. Get project specific insider information delivered straight to your inbox. Critical project details, floorplans, and pricing are all yours long before they get released to the general public.
Exclusive Pre-release Sneak Peak
To get a sneak peek and learn more first-hand details about this exclusive project ,call 613-233-4210 or book an appointment to view some pre-release drawings, layouts and finishes we're working on before they become available.
Book an appointment