Why people choose Surface
How we keep our condo fees the lowest in Ottawa
We continually look for ways to rebalance the equation to provide a home where our customers see the most value. This means striking a perfect balance between quality, long-term reliability, and the lowest possible condo fees.
Condo fees are critical to ensuring your investment is properly taken care of but no one wants to feel like they are paying rent on top of their mortgage. When designed properly and managed wisely a condo building will provide, the amenities and services you need, long-term assurance and reliability you want, and all while keeping condo fees low so you can put your money where it matters most.
What are condo fees for?
Condo fees cover both short and long-term expenses related to the management and upkeep of your condo building. They go to covering day to day operational items such as paying to keep the lights on in the lobby, covering the cost of cleaning to ensure the building always looks its best, and for costs associated with managing the building.
A portion of monthly fees are also set aside and put in a reserve fund for future major long-term expenses such as replacing the windows, roof, or heating and cooling systems. As opposed to home ownership where you have major costs incurred at somewhat random times, condo fees are a way of slowly putting away small, amounts of money that should account for any of these future expenses.
All of this can add up but contrary to what many will have you believe, condo fees don't necessarily need to be high. When we design a new condo our focus is squarely on providing long-term value to our clients. This means always maintaining that perfect balance of quality, long-term reliability, and the lowest condo fees possible.
Why do we this?
Lower monthly costs
Simply put, lower condo fees mean your monthly costs are going to be lower. Lower costs mean more savings so you have money left over to spend on the things you value most. These are savings you'll continue to enjoy month after month for the lifetime of your home.
Condo fees are calculated by multiplying the condo fee rate by the square footage of your unit. A five cent savings per square foot may seem like a small amount initially but even seemingly small savings can add up quite substantially over the life of your mortgage.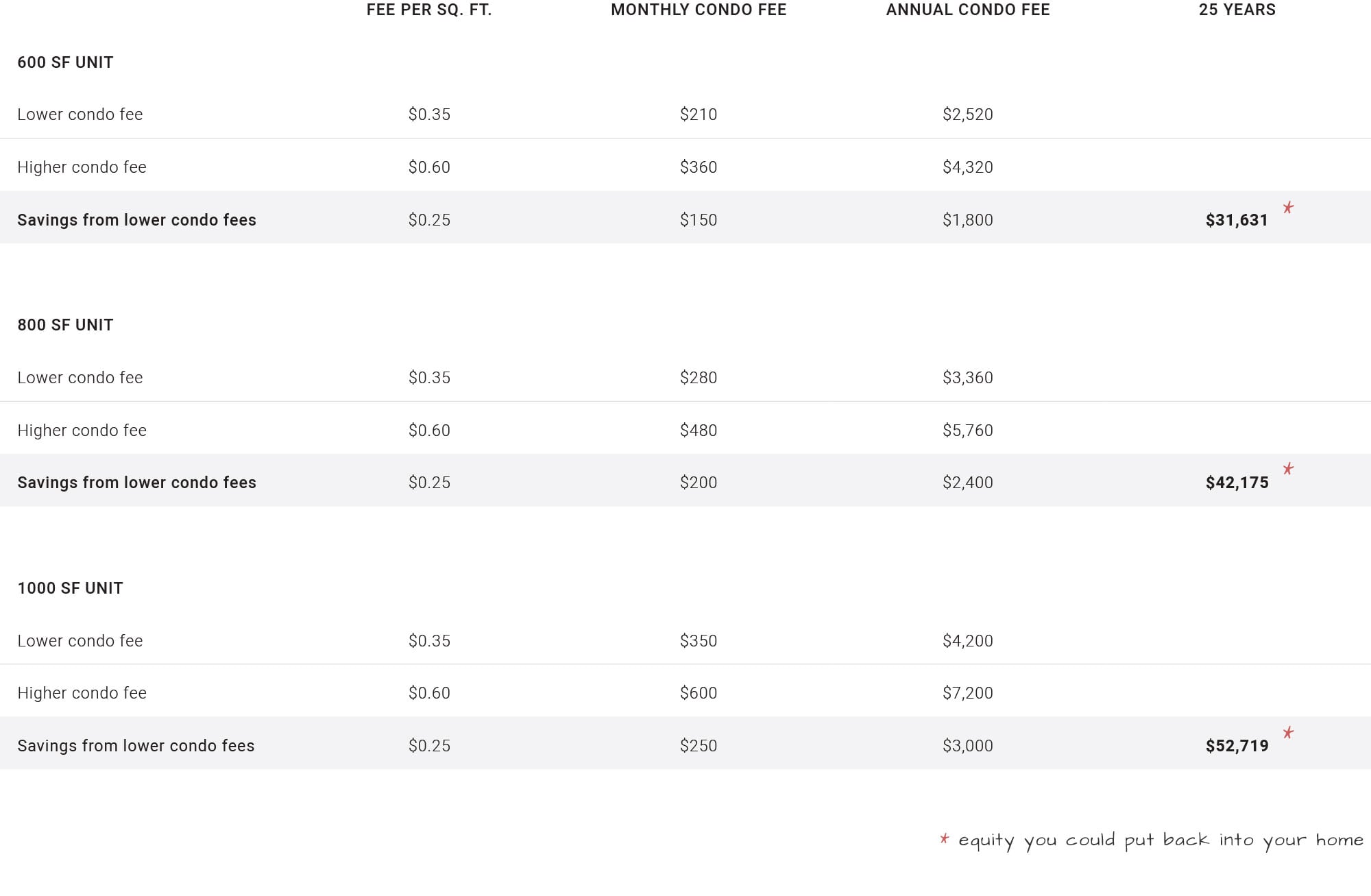 Get a larger or more luxurious condo
Condo fees play a significant role in how much home you can afford. In deciding how much you're able to spend on a new condo you need to take into account not just the purchase price but also all your carrying costs. How much will I be paying for my mortgage, my utilities, taxes, and critically, my condo fees? When you choose a condo with lower condo fees you can actually use those monthly savings to invest more into the initial purchase price.
By doing this your monthly costs stay the same but you have extra money to invest into your unit because you can afford a larger mortgage. You could simply pocket the savings each month or use that money to get a larger space or some dream upgrades. For some, it can be the difference in being able to move up from a 1 to 2 bedroom home.
How do we this?
We keep expensive, sub-par building amenities to a minimum.
We choose to construct our buildings in the best, most amenity-rich neighbourhoods in Ottawa. We do this for a reason. If you wish to get your dog groomed by a professional or take the trendiest new aerobics class these areas have the best of these and many other great amenities, often only a short walk away.
Paying a full-time concierge or maintaining a pool can cost condo owners much more in condo fees then it would to enjoy these things from time to time in the neighbourhood they live. Plus you can choose to change or cancel these activities at any time. You can't cancel your condo fees.
Bringing your furry loved ones to a trendy grooming spot in the neighbourhood will likely provide a better experience and cost much less
Fitness classes and exercise memberships will often be much more up to date and cost much less than a condo fitness room
Building quality
Like a home, a condo building will age and require more maintenance over time. The best homes or buildings cannot simply be left for decades without care. What can make a big difference in how much future maintenance a building will need is determined largely by both effective management and the quality of construction. As your builder, we ensure our condos are constructed to the highest standards. Our commitment to quality has been recognized numerous times by a host of local, provincial and national organizations.
For over 40 years, Tarion has provided new home warranty protection to more than two million Ontario homes, ensuring that one of their life's biggest investments is protected. Our impeccable track record with Tarion and this program gives our condo owners the assurance they're buying the best.
Limit underground parking
Underground parking is a large initial expense when constructing a building. It's an even larger expense to maintain over time. Maintenance, repair, heating and cooling are surprisingly high, year-round expenses that condo owners must cover if you choose a building with underground parking.
By continually speaking with our buyers and working with their feedback we collectively have found that the highest value to our customers can be offered by not building expensive underground parking. Our buyers have preferred the extra savings and higher value option of outdoor or covered parking.
Why do condo fees go up?
Condo fees can go up for a variety of reasons. A builder may deliberately misrepresent the actual costs of running and maintaining the building, the building may be mismanaged by the Board of Directors, construction quality may be low, certain unforeseen costs may appear or costs may go up. Often, however, the Board of Directors may voluntarily increase condo fees in order to put more money aside for a rainy day by increasing payments to their long-term contingency fund.
A larger long-term contingency
The Condominium Act requires condo buildings to put aside a minimum 10% of their yearly budgets towards a long-term contingency fund. When calculating condo fees almost all builders use this amount when advertising intended fees. This gives the purchaser the ability to compare most offerings equally. It's not uncommon however to have condominium Board of Directors decide to put aside more money to limit future surprises. By paying a bit more each month you'll build a larger savings and further reduce the chance of unforeseen costs. This is entirely up to the condo board you elect and should reflect the wishes of all owners.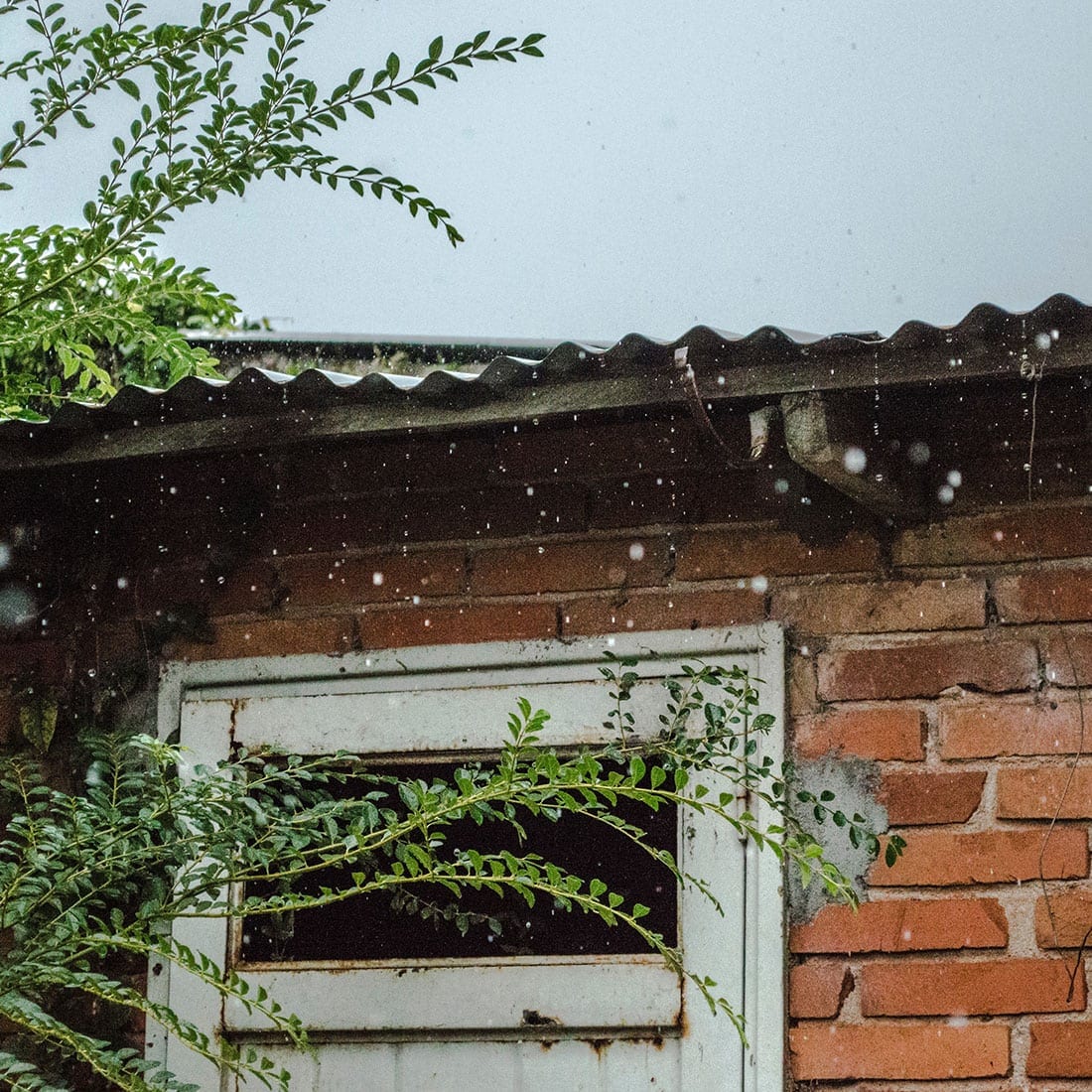 A new roof is a necessary expense at some point in any home ownership. Many prefer preparing ahead for such expenses through condo fees
Condo fees when managed wisely often provide many beneficial long-term savings and valuable returns
Low-quality construction will cost you in the long run
Condo fees will rise where quality lacks. Low-quality construction will often not be apparent until later in the life of the building. When things like elevator maintenance bills start adding up, mechanical systems fail, or windows need replacing, condo fees can rise to cover these extra expenses. It's highly recommended to research the reputation of the builder in advance to avoid expensive frustrations down the road.
High-five to low, well-managed condo fees!
At Surface we continually look for ways to rebalance the equation to provide a home where our customers see the most value. Condos can often at first glance seem expensive, but condo fees, when managed wisely often provide many beneficial long-term savings and valuable returns that protect your potentially largest investment.
If you have any additional questions about condo fees or our commitment to quality feel free to contact us and we will be happy to answer your questions as best possible.